Tree Trimming & Pruning in Ottawa
---
Why Should You Prune Trees?
Trees are living, breathing organisms. They are alive! And just like any other living thing, they could use a good cleaning from time to time. We like to think that  trimming and pruning the branches of a leafy tree on your property is the same as getting a haircut once your hair starts to get too bushy and tangled. The only difference being that when your tree's branches get tangled up, there could be dire consequences.
Rock's Tree Service offers tree trimming and pruning services throughout the Ottawa area, and with our dedication to delicate tree care, your property will be looking better than ever. We are trained by Arboriculture Canada, fully insured, and have more than 15 years of experience in the industry, having served Ottawa since 2012!
A good trim and prune is a mix of science and art. Sure, you've got to know the reasons why you're doing it in the first place and the best practices for getting it done, but you also need to have a knack for predicting the future growth of limbs, a keen eye for property design, and knowledge of how to best make the trees on your property as healthy as they can be.
At Rock's Tree Service, our knowledge and experience are matched only by our passion and dedication for keeping Mother Nature healthy. Having the trees on your property touched up by professionals will help enhance the look of your property, increase the value of your home, extend the life of your trees, and, most importantly, keep you and your family safe from the hazards of falling limbs.

The immediate benefits of having us come to your house and touch up your branches are:
Fewer dead limbs and less of property damage
A healthier tree that lives longer
Increased sunlight that allows for more lush undergrowth
Increased resistance to tree pests
Lower susceptibility to damage during storms
Doing it the proper way has many benefits, just as doing it the wrong way could lead to damage. It's important to always go with a professional service to ensure that you don't do more harm than good. Our tree experts have years of experience as well as knowledge of the safety practices necessary for dangerous jobs.
Don't forget the value of increasing your home's curb appeal. Beautiful foliage has been proven to attract buyers, contributing to the WOW factor necessary for selling homes quickly
When You Should Call Rock's Tree Service
Wondering if it's time to prune your trees? Here are some signs that you should give us a call as soon as possible:
Your branches are too close to wires
Branches are scraping up against your home
There are too many dead or unsightly branches
You can't remember the last time you had them trimmed
You are planning to sell your home and want to improve the appeal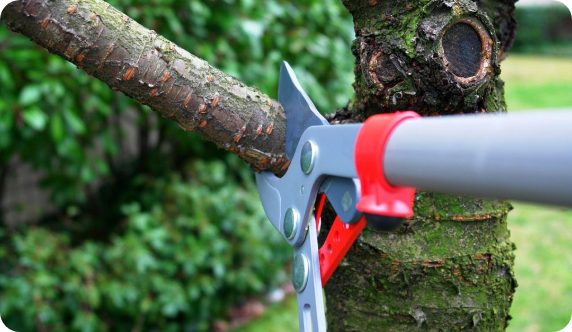 The only way we can know how to help you is by making a visit to get the lay of the land. At Rock's Tree Service, our fully licensed experts will work carefully and quickly, making sure the end result is a beautiful, healthier group of trees in your yard. Contact us today for your free estimate.