Tree Trimming: Ottawa-Wide Tree Services
---
Trees are living, breathing organisms. They are alive! And just like any other living thing, they could use a good cleaning from time to time.
As one of Ottawa's trusted providers of tree services, we like to think that trimming and pruning the branches of a leafy tree on your property is the same as getting a haircut. The only difference being that when your tree's branches get tangled up, there could be dire consequences.
Our Ottawa services are designed to:
Restore life to your trees

Prevent and mitigate tree-related issues

Save you time and money in the process

Help you sell your home faster

Make your property aesthetically pleasing

Provide answers to your tree-related questions
Our local eco-friendly services guarantee the health and safety of both you and your trees.
Why Pay for Tree Trimming Services in Ottawa?
Rock's Tree Service caters to the city of Ottawa. Tree trimming, pruning, and all around tree care keeps the city neat and tidy, as well as the trees healthy. With commercial-grade equipment and industry expertise, our team of tree experts provide Ottawa businesses and homes with seasonal and emergency services that save them time and money.
Equipment
Trees are majestic giants, and inexperienced people, such as Ottawa homeowners, aren't always careful when working at great heights. Homeowners don't have the same kind of equipment to efficiently get the job done. While we have cherry pickers and safety ropes, homeowners have ladders. One false move and they could seriously hurt themselves. When Rock's team shows up, we're fully equipped to provide you with the tree services you need.
Expertise
It's vital to think about your trees' health. A good trim and prune is a mix of science and art. Sure, home and building owners should know the reasons why they need tree or hedge trimming in the first place, but to ensure their trees' health, Ottawa home and building owners also need to have:
A knack for predicting the future growth of limbs

A keen eye for property design

Industry knowledge of how to maintain the health of your property's trees
Most Ottawa home and building owners do not possess all three of the aforementioned aspects. And that's okay. Every tree climbers at Rock's Tree Service does have the knowledge. By having our tree experts in Ottawa do the work for you, you're investing in your home and commercial property's long-term care.
Save Time & Money
Paying for Rock's Tree Services in Ottawa means we can tell you how long the job will take and make sure it gets done in a set amount of time. Home and building owners will spend time planning it out, and since they won't have the right equipment or know-how, the job will take much longer than it should.
Hiring Rock's Tree Services in Ottawa also means:
You won't need to unnecessarily remove or replace your trees because you caused irreparable harm to them.

You won't need to rent equipment or replace your own tools if they get damaged.

You'll save money that would have been put towards medical expenses if you had suffered from an injury by doing the work yourself.
From Ottawa tree pruning to hedge trimming to tree removal, Rock's team is here to do the work for you the right way!
Maintain Tree Health
Hiring tree experts ensure they will evaluate your tree's health and be well aware of the Emerald Ash Borer (EAB), a wood-boring beetle that was found in the city in 2008. It lives under the bark of almost all types of ash trees, so they won't be detected by the average person.
The EAB kills ash trees by eating the bark from the inside out. It takes about two to three years for a tree infested with the EAB to die, but it can die within a year if it's heavily infested.
At Rock's Tree Service, our professional tree experts will work carefully and quickly, making sure the end result is a beautiful, healthier group of trees on your property.
Fast Response: Emergency Tree Services
Our professional arborists in Ottawa are quick to answer your call when your property has experienced storm damage. We will assess the situation and provide whatever you need, including tree removal. The safety of your home is one of our top priorities. Should you require tree removal in Ottawa, we will also provide stump grinding to make your property look beautiful again!
In some cases, steel cabling and bracing are required to add structural support to trees. There are three reasons for this:
Prevention

: The cables and braces will prevent a tree's health from declining due to storm stress and the weight of snow, ice, and foliage.

Restoration

: The cables and braces provide support to trees that lost one of their main leaders due to a storm or tree removal and may not be as structurally strong in harsh weather.

Mitigation

: The cables and braces will reduce the chances of multi-stemmed trees becoming a hazard in busy areas.
Why Should You Prune Trees?
At Rock's Tree Service, our knowledge and experience are matched only by our passion and dedication for keeping Mother Nature healthy. Having the trees on your property touched up by professionals will help to enhance the look of your property, increase the value of your home, extend the life of your trees, and, most importantly, keep you, your family, and staff safe from the hazards of falling limbs.

What Are the Benefits of Tree Pruning?
The immediate benefits of having us come to your house and touch up your branches are:
Fewer dead limbs and less of property damage
A healthier tree that lives longer
Increased sunlight that allows for more lush undergrowth
Increased resistance to tree pests
Lower susceptibility to damage during storms
Doing tree pruning the wrong way could lead to damage to your property and disaster to your trees. It's important to always go with a professional service to ensure that you don't do more harm than good. Our Ottawa tree experts have years of experience, as well as knowledge of the safety practices necessary for dangerous jobs.
Don't forget the value of increasing your home's curb appeal. Appearances are everything when selling a home. Something as simple as a little tree or hedge trimming can do wonders! Beautiful foliage has been proven to attract buyers, contributing to the WOW factor necessary for selling homes quickly.
When You Should Call Rock's Tree Service?
Wondering if it's time to prune your trees? Here are some signs that you should give a Rock's a call as soon as possible:
Your branches are too close to wires

Branches are scraping up against your home

There are too many dead or unsightly branches

You can't remember the last time you had them trimmed

You are planning to sell your home and want to improve curb appeal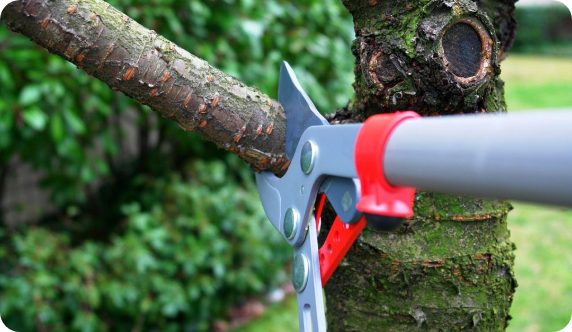 The only way we can know how to help you is by making a visit to get the lay of the land.
Rock's Tree Service offers tree trimming and pruning services throughout the Ottawa area, and with our dedication to delicate tree care, your property will be looking better than ever. We are trained by Arboriculture Canada, fully insured, and have more than 15 years of experience in the industry, having served Ottawa since 2012!
Whether it's an emergency or notice your tree is overgrown, contact our Ottawa tree experts today for a free estimate complete with reports and evaluations.